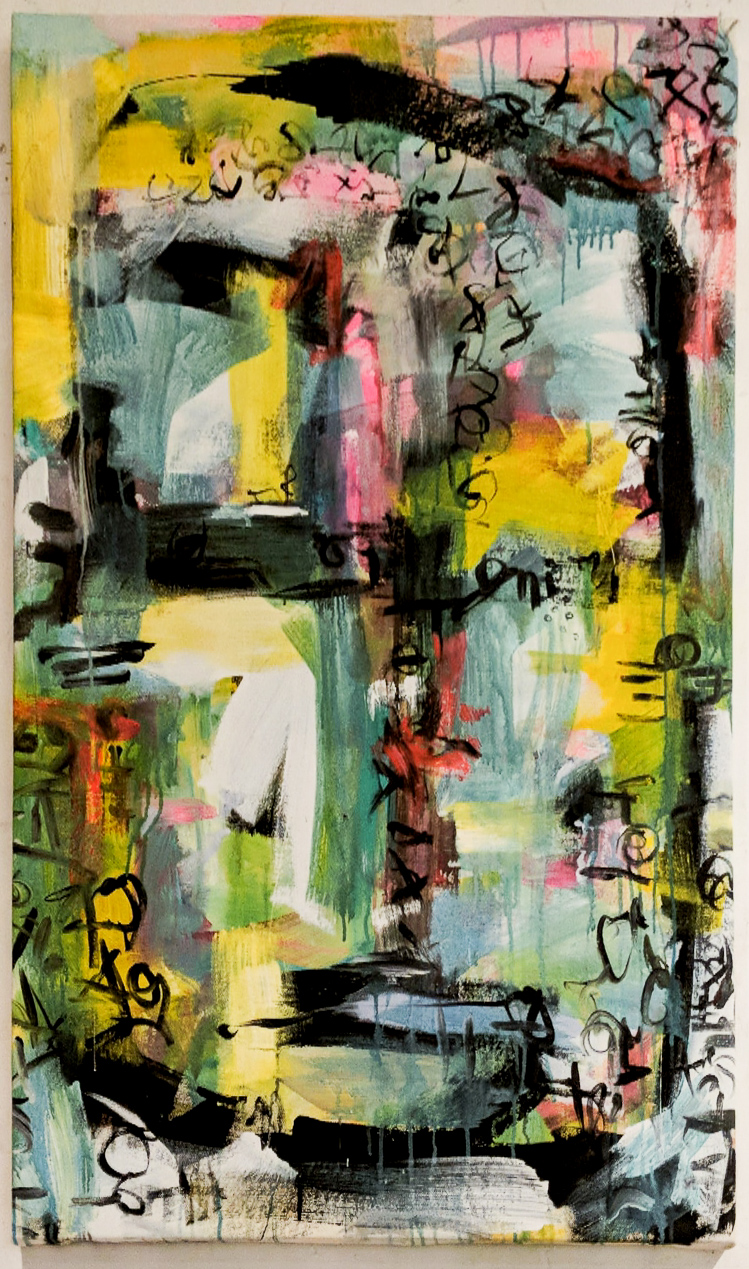 Monica Tie and Carolyn Hitt
She Speaks…
Everyone struggles to be understood.
As an Asian American, I struggle with being heard, being seen as soft spoken and quiet when those are often the traits I'm praised for. At the same time, when I break that cultural norm and speak my mind, or sound angry, I'm reprimanded and told to be grateful. As a woman I've been dismissed for sounding upset, for 'pitchforking', for not being empathetic enough to others when it was they who lacked empathy for me. As someone who has struggles with post traumatic stress, it's a struggle communicating complex invisible wounds that even I can't put names to.
She Speaks...is a recognition of my frustration of speaking up about important issues, and the world dismissing it as garbled speech, torn down as nonsensical and not to be acknowledged. The characters written in both of our hands, the energy within the paint strokes represent the conflict.
After seeing Carolyn perform in WS is BS* at Inscape House it became more apparent that this struggle is bigger than any one person or group. She Speaks...is a piece for everyone. It's a manifestation of the mental hurt and the toll extracted on the soul. But it is also a celebration of freedom. Because we are not silent.
Stories from May Capitol Hill Art Walk
Share Your Story
What words have you spoken that landed on deaf ears or were claimed to be invalid simply because the receiver lacked the experience, knowledge or context of your words? When did you find the courage to keep speaking anyway?
Share stories anonymously of times you've spoken out and haven't been heard, and resolve the imbalances you have faced within the world. The words will be printed after the show and included with the painting from there on out.
Carolyn Hitt
Carolyn Hitt is a prolific abstract expressionist and the founder of Blue Cone Studios— an incubator for talent across disciplines. In 2018 she released The Relevant Unknowns, an artist yearbook and community guide. Her commitment to community building takes many forms including hosting weekly teas open to the public that center emerging and marginalized young creatives. Her exhibition, 1,000,000 AD, was featured in Shunpike's Storefronts series in 2019. Hitt believes that each one of us is called to honor the original impetus to create that was beaten out of us as children—e.g. Fuck the programming.
Monica Tie
After working as a software engineer for 7 years, Monica Tie decided a break was needed from being enmeshed within the machine of white patriarchy where social equality is a marketing tactic and bias is laundered through diversity and inclusion numbers. She quit her salary job and invested her energy into an artistic pursuit. Since then, she's been a member of Blue Cone Studios, working on immersive alcohol inks that mimic the seasons and sights of the pacific northwest. Her dream is to work on large installations as a platform to speak about current day issues like equality, mental health, and identity. "She Speaks Even When The World Doesn't Understand" is her first step in this direction.
"She Speaks"
approx. 24'' x 48''
$3200